Pineapple Cove Classical Academy's High School Program
The journey of a high school student at Pineapple Cove Classical Academy will occur progressively, culminating in the junior and senior years.  Below, we lay out each year's primary focus:  9th grade as the Foundational Year, 10th grade as the Learning Year, 11th grade as the Working Year, and 12th grade as the Decision Year.  The 9th and 10th grades are a time for building a strong academic foundation and beginning conversations about post-graduation plans.  The 11th and 12th grades are when students must work diligently to complete the testing, application, and decision-making process for college.  We will provide information and support to students over these four years by notifying them of testing dates, school-sponsored and regional events, and other important deadlines and by advising students on how to use their time wisely in high school and define their future goals and direction.
Transcript Request Form
Click here to request a transcript.
Please forward transfer documents to our registrar, Kendra Appleton. 
Click here for our high school Course Catalogue for 2022-2023.
Click here for our graduation requirements.
Click here for the Elementary to Middle School Transition presentation.
Click here for the 2021-2022 Middle School to High School Transition presentation.
Click here for the 2021-2022 High School Information Night presentation.
Click here for the 2022-2023 Dual Enrollment Information Presentation.
Click here for instructions to apply to Eastern Florida State College.
Click here for instructions on course selection at Eastern Florida State College.
Click here for our School Profile.
Accreditation
As of Spring 2022, Pineapple Cove Classical Academy is accredited by Cognia for the accreditation period of 2022-2027.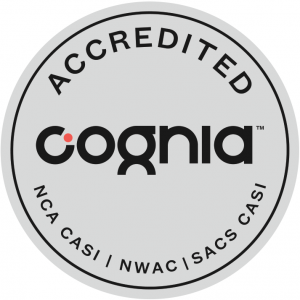 Academic Clubs:  Students participate in academic clubs such as Junior Classical League and Student Council.
National Honor Society:  Officers and class representatives are elected and mentored.  They meet following parliamentary procedure, develop proposals, collaborate with school leadership, and coordinate initiatives to serve the community and student body.
Trailblazer: PCCA produces its own yearbook as a student-led project from idea conception to production.
Sports: Offerings include Men's Varsity and Junior-Varsity Basketball, Soccer, Track and Cross Country; Women's Varsity and Junior-Varsity Volleyball, Cheerleading, Dance, Basketball, Track, and Cross Country.
Extracurricular Activities:  Offerings include Frisbee Club, Advanced Art Club, Chess Club, Student Council, Junior Classical League, Poetry Club, Steel Drums, Choir, Fellowship of Christian Athletes, Advanced Strings Ensemble, and Ukulele.
Student Experiences: Students in eighth grade visit Washington, D.C.; tenth grade students visit St. Augustine; twelfth grade students culminate their classical education experience with a trip to Europe.